NEWS Stipeche named director of education
Published on 03 February 2016
Mayor Sylvester Turner has selected former Houston Independent School District Trustee Juliet Stipeche to serve as director of education, a new position within the mayor's administration.
"Juliet is very passionate about education and children ,and I share that passion," said Mayor Turner. "She is a visionary with transformative ideas. Her collaborative approach of working with parents, administrators, business, law enforcement and neighborhoods will help achieve my goal of moving this city forward and reducing the income inequality that is so often the result of deficiencies in the education system."
Stipeche comes to the mayor's office from Rice University where she was associate director of the Richard Tapia Center for Excellence and Equity. She spent five years as a trustee on the Houston Independent School District Board, including serving as president in 2014. Since 2007, she has been shareholder of counsel at Nagorny & Stipeche, P.C. She has written and presented lectures on nearly 20 topics ranging from demanding excellence in education to empowering students in today's world to educating for equity in Texas. Her law degree was earned at The University of Texas, and she graduated magna cum laude from Rice University with a bachelor of science degree in political science, policy studies and religious studies
Stipeche's professional affiliations include membership in the State Bar of Texas, the National Association of Latino Elected Officials, the Mexican American Bar Association, the Hispanic Bar Association of Houston, the Houston Hispanic Chamber of Commerce, The Texas Association of School Boards and the National School Boards Association.
"The creation of this new position is meant to compliment, not compete, with the hard work of our area school districts," said Turner. "Creating the strong, well-educated Houston of tomorrow will require everyone working together. Juliet is the perfect choice for ensuring my vision gets implemented."
"I am excited and deeply honored to work with Mayor Sylvester Turner, who is committed to building a City where educational equity and opportunity exist for every child regardless of zip code," said Stipeche. "I look forward to collaborating with fantastic community partners to build lasting relationships to promote educational excellence in the City of Houston."
Stipeche joined Mayor Turner's administration on February 1.
NEWS Houston Police Chief to retire February 26
Published on 02 February 2016
Mayor Sylvester Turner has accepted the retirement of Houston Police Chief Charles McClelland, effective February 26, 2016. McClelland was sworn in as a police officer in September 1977. He rose through the ranks at HPD and was sworn in by former Mayor Annise Parker as police chief on April 14, 2010.
"I want to thank Chief McClelland for his 39 years of service to the City," said Mayor Turner. "He is a respected figure in the community who has served this city well and has many accomplishments of which to be proud. The city's crime rate during his tenure is lower than it was for the previous six years and citizen complaints filed against our officers are at a record low."
Chief McClelland managed the fifth largest police agency in the nation with a budget of more than $825 million and a staff of 5200 sworn officers and 1200 civilian employees. Whether it is creating new programs aimed at encouraging positive interaction with Houston's youth, organizing a town hall where residents have the opportunity to ask questions or simply sharing a cup of coffee with residents, Chief McClelland made it a point to focus on taking HPD to the community it serves.
When asked what he considers his proudest accomplishments, he cites the lower crime rate, HPD's stewardship of its financial resources and improved community relations. He is also very personally proud of having been able to convince former Mayor Parker and City Council to name HPD headquarters after Officer Edward A. Thomas, one of HPD's first African American officers and the department's longest serving officer.
This is a decision that was reached after much personal thought and consultation with my family," said McClelland. "It was not an easy decision, but I know it is the right decision for me personally. am leaving HPD in a better place than it was six years ago."
Mayor Turner has not yet selected an interim chief; that decision will be made in the coming days.
NEWS Emmett delivers his Ninth Annual State of County Address
Published on 02 February 2016
Despite widespread criticism of government on a national and state level, County Judge Ed Emmett said in his 2016 State of the County Address today that Harris County government consistently provides exceptional services to residents while maintaining an extremely strong financial position.

Emmett cited the county's AAA bond rating and recent improvements in emergency management, flood control, criminal justice and veterinary health as examples of county government's effectiveness.

"Harris County is one of the best run local governments in the country," Emmett said. "The commissioners courts before I arrived made it so, and it is my primary goal to work with the current court to maintain that status."

But, despite its successes, county leadership faces serious challenges in the coming years, especially in dealing with transportation, health care and the future of the Astrodome, Emmett said.

Emmett spoke to a record 1,100 people attending his ninth State of the County Address, sponsored by the Greater Houston Partnership and the League of Women Voters. He concluded the event by calling on attendees to help him battle an increasingly pervasive pessimism regarding government and government officials.

"I ask you to push back against those who want to play politics with county government," Emmett said. "In the world of politics, too many candidates see government as the enemy, yet they want to be part of government. Such people have vilified government employees, yet they expect quality in emergency management, flood control and all other services. We should encourage young, bright, talented individuals to join public service."
NEWS Camp Kesem to host 'Make the Magic' event April 10
Published on 08 April 2015
Rice University's chapter of Camp Kesem, an organization dedicated to helping children through and beyond their parent's cancer, will host its first "Make the Magic" event Friday, April 10, from 6:15 to 9 p.m. at Rice's Cohen House, 6100 Man Street.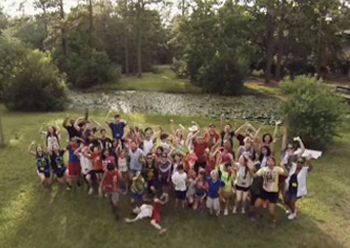 Founded in 2013, Camp Kesem Rice is one of 54 student chapters in the national organization, the country's only nonprofit dedicated to organizing free summer camps to provide emotional support, camaraderie and fun experiences for the often-overlooked population of children affected by a parent's cancer. Camp Kesem provides a lifelong, peer-support network for these children, anchored in a network of free summer camps that are led by passionate college student volunteers across the country.
Funds raised during this night of dinner, philanthropy and entertainment will help provide yearlong peer support and send 60 campers to camp Aug. 1-7. The event will include dinner, speeches from a Camp Kesem counselor and family, a paddle-raise fundraiser and fun activities such as ring toss.