NEWS Emmett delivers his Ninth Annual State of County Address
Published on 02 February 2016
Despite widespread criticism of government on a national and state level, County Judge Ed Emmett said in his 2016 State of the County Address today that Harris County government consistently provides exceptional services to residents while maintaining an extremely strong financial position.

Emmett cited the county's AAA bond rating and recent improvements in emergency management, flood control, criminal justice and veterinary health as examples of county government's effectiveness.

"Harris County is one of the best run local governments in the country," Emmett said. "The commissioners courts before I arrived made it so, and it is my primary goal to work with the current court to maintain that status."

But, despite its successes, county leadership faces serious challenges in the coming years, especially in dealing with transportation, health care and the future of the Astrodome, Emmett said.

Emmett spoke to a record 1,100 people attending his ninth State of the County Address, sponsored by the Greater Houston Partnership and the League of Women Voters. He concluded the event by calling on attendees to help him battle an increasingly pervasive pessimism regarding government and government officials.

"I ask you to push back against those who want to play politics with county government," Emmett said. "In the world of politics, too many candidates see government as the enemy, yet they want to be part of government. Such people have vilified government employees, yet they expect quality in emergency management, flood control and all other services. We should encourage young, bright, talented individuals to join public service."
NEWS Camp Kesem to host 'Make the Magic' event April 10
Published on 08 April 2015
Rice University's chapter of Camp Kesem, an organization dedicated to helping children through and beyond their parent's cancer, will host its first "Make the Magic" event Friday, April 10, from 6:15 to 9 p.m. at Rice's Cohen House, 6100 Man Street.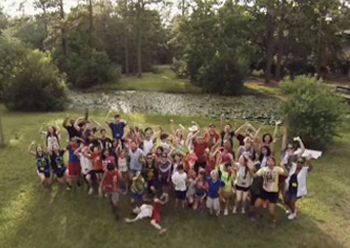 Founded in 2013, Camp Kesem Rice is one of 54 student chapters in the national organization, the country's only nonprofit dedicated to organizing free summer camps to provide emotional support, camaraderie and fun experiences for the often-overlooked population of children affected by a parent's cancer. Camp Kesem provides a lifelong, peer-support network for these children, anchored in a network of free summer camps that are led by passionate college student volunteers across the country.
Funds raised during this night of dinner, philanthropy and entertainment will help provide yearlong peer support and send 60 campers to camp Aug. 1-7. The event will include dinner, speeches from a Camp Kesem counselor and family, a paddle-raise fundraiser and fun activities such as ring toss.
NEWS Rice names new provost
Published on 11 March 2015
Marie Lynn Miranda, an acclaimed researcher and the Samuel A. Graham Dean of the School of Natural Resources and Environment at the University of Michigan, has been named provost of Rice University.
Miranda specializes in research on environmental health, especially how the environment shapes health and well-being among children. She is a leader in the evolving field of geospatial health informatics and has studied, for example, the impact of racial residential segregation on health. She is the founding director of the Children's Environmental Health Initiative, a research, education and outreach program committed to fostering environments where all people can prosper. The initiative's peer-reviewed research has been cited extensively, including in the U.S. Environmental Protection Agency's integrated science assessment on revisions to the national ambient air quality standard for lead.
Miranda's outreach efforts include direct engagement in communities affected by environmental exposures. Her work has garnered more than $43 million in sponsored research as a principal or co-principal investigator, plus an additional $14 million as investigator. This research has been supported by grants from the National Institutes of Health (NIH), the U.S. Centers for Disease Control and Prevention, the U.S. Environmental Protection Agency, other U.S. government agencies, the World Health Organization and multiple foundation sponsors.
The Children's Environmental Health Initiative is currently headquartered at the University of Michigan's School of Natural Resources and Environment, where Miranda has served as the dean and professor since 2012. She also holds a position as professor of pediatrics and of obstetrics and gynecology at the University of Michigan's School of Medicine. At Rice, her primary appointment will be in the Department of Statistics.
Prior to joining the University of Michigan, Miranda served for 21 years on the faculty at Duke University, where she was initially in the Department of Public Policy. With her increasing interests in environmental health, she became a professor in the Nicholas School of the Environment and Department of Pediatrics and a faculty member in the Integrated Toxicology and Environmental Health Program and the Duke Global Health Institute.
Miranda said she was excited by the possibilities for interdisciplinary research and learning at Rice. "Even in the information age, with the ensuing democratization of knowledge, colleges and universities hold the greatest potential for helping students to bridge the chasm between knowledge and wisdom, especially so in the residential college setting," Miranda said. "In both the curriculum and the co-curriculum, we have the opportunity to help students explore how different cultural perspectives shape community dynamics, how poetry and art can help child refugees heal, how engineers and designers must come together to find solutions that will be embraced by the public, how teams of thinkers can do extraordinary things like discover buckminsterfullerene."
Miranda also has a strong record of international engagement. She has worked in Nepal, Indonesia, Malaysia, Costa Rica, Honduras and Sweden. At Michigan, she is working to build partnerships in China, India, Brazil, Mexico and both East and West Africa. She maintains an active research program in East Africa and is involved in a multi-university initiative focused on strategies to combat malaria in sub-Saharan Africa.
Miranda currently serves on the National Advisory Environmental Health Sciences Council to the National Institute of Environmental Health Sciences, part of the NIH.
Miranda grew up in Detroit. The child of immigrants, Miranda has particular insights into the changing demographics that are shaping U.S. higher education.
"Growing up brown in a black neighborhood in Detroit, and later doing research almost exclusively in disadvantaged and minority communities, have kept me attuned to issues of inclusiveness," she said. Shaped by parents committed to education as the mechanism for opportunity, Miranda said, "The fact that I now have the privilege of serving as the next provost of Rice University bears witness to the power of education to transform lives."
A Phi Beta Kappa graduate of Duke, she earned her A.B. in both mathematics and economics. Although she worked for Duke basketball coach Mike Krzyzewski as an undergraduate, her favorite sport is baseball – and she has already seen the Rice Owls play in Reckling Park. A Truman Scholar and a National Science Foundation Graduate Fellow, Miranda has a Ph.D. and M.A., both in economics, from Harvard. Miranda is married to Christopher Geron and has three children, Thompson, Mariel and Viviana.
Miranda's appointment as the Howard R. Hughes Provost becomes effective July 1.
NEWS Groundbreaking for Harrisburg METRORail overpass set for March 14
Published on 11 March 2015
The Green (East End) METRORail Line will commemorate the beginning of construction for the new Harrisburg Overpass with a ground-breaking ceremony on Saturday, March 14 at 9 a.m. The observance will take place in the 6200 block of Harrisburg near the METRORail Service & Inspection Facility.
The program will include the groundbreaking with dignitaries and community leaders and light refreshments after the ceremony. The overpass design is the result of community input and combines the "History of the East End" and a "Garden Wall," incorporating white LED lighting with blue accents at the bridge columns to enhance the appearance of the lower side of the bridge.
METRO's Board of Directors voted on January 29 to move forward with the Harrisburg Overpass, awarding the contract to McCarthy Building Companies, Inc . The bridge will be built along the Green Line (East End), near the Gus Wortham Golf Course, allowing cars and trains to travel over the Union Pacific East Belt freight rail line running north-south, west of Hughes Street. The half-mile overpass will complete the Green Line which is scheduled to open this spring.