EVENT Tour de Pink bike ride slated for Sunday morning, Sept. 14
Published on 09 September 2014
The 10th annual Tour de Pink bike ride, benefiting Pink Ribbons Project, is slated for Sunday, Sept. 14 at Prairie View A&M University. Tour de Pink is the first bike ride in Texas to solely benefit breast cancer awareness and education.
"For 10 years, Tour de Pink has raised lifesaving funds for breast cancer services and provided access to screening, diagnostic services and support for underserved women and men in Houston," said Kristi Okwuonu, executive director of the Pink Ribbons Project.
Routes for all levels, ranging from 12 to 100 miles, wind through the back roads of Prairie View, Waller, Hempstead, Hockley and other sites along US 290.

Walk-in registration is open for $40 at the Bike Barn (5339 Weslayan) on Friday, Sept. 12 from 10 a.m. to 7 p.m. and on Saturday, Sept. 13 from 10 a.m. to 7 p.m. Day of registration will be open from 6 to 7 a.m. at Prairie View A&M University. Cost is $50.
Cyclists are required to raise $125 in pledges to support mammograms and follow-up services for underinsured men and women in Houston. Fundraising incentives, including the chance to win two round-trip airline tickets anywhere in the contiguous United States, are available.
Tour de Pink sponsors include SOFTLAYER, Bike Barn, OSO promotions, Bracewell & Guiliani, Carrizo, Kirksey, Thompson & Knight, Ann & Richard Cook, Lorie F. Cram, MD, My 'younger' sister ROCKS!, Vomax, Top Drawer Lingerie, Urban Bicyle Gallery and UTMB Health.
Using the arts, the Pink Ribbons Project promotes breast health, saves lives and improves the quality of life for those touched by breast cancer. Through education, awareness and outreach programs, the Pink Ribbons Project helps underserved women receive breast cancer screening and follow-up care through services at clinics and mobile mammography units throughout the Greater Houston area.
To become a Pink Partner and for more information about Pink Ribbons Project's many programs, call 713-524-PINK (7465) or visit www.pinkribbons.org/.
NEWS RodeoHouston names Cheney new VP and COO
Published on 29 August 2014
Dan Cheney will join the Houston Livestock Show and Rodeo as vice president and chief operating officer effective October 1.
Cheney will fill the position of Leroy Shafer, who will be retiring after more than 40 years of service to the Houston Livestock Show and Rodeo. Cheney currently serves as president and chief executive officer of the Cheyenne Frontier Days in Cheyenne, Wyoming.
"Dan's experience and accomplishments in the fairs, festivals and rodeo industries, coupled with his solid business acumen, will help drive the future success of the Houston Livestock Show and Rodeo," said Joel Cowley, the organization's president. "He'll be working with a committed and dedicated staff and a workforce of more than 31,000 passionate volunteers. We welcome him to both our organization and to the nation's fourth largest city."
Starting in 2010, Cheney lead Cheyenne Frontier Days. Prior to that role, he was the founder, CEO and president of Forbes Capital Business Group, Inc.; director of global marketing and business development for Pro Equine Group; and general manager of The Show Place Arena in Memphis, Tennessee, a 6,250-seat indoor arena and outdoor events facility.
"I am excited to join such a prestigious organization. The volunteer and staff effort at the Houston Livestock Show and Rodeo is nothing short of extraordinary," said Cheney. "I am looking forward to applying my entertainment, marketing and finance experience to contribute to the organization's continued success. I have a strong connection with the mission, as I was raised on a commercial cattle ranch and received a scholarship to attend college as a rodeo athlete. Promoting education and Western culture is my heritage."
Cheney holds a bachelor of science degree in agricultural economics from the University of Wyoming. Additionally, he earned a master's of business administration degree from the University of Memphis.
The 2015 Houston Livestock Show and Rodeo runs March 3 – 22 at NRG Park. The Show is a Section 501(c)(3) charity that benefits youth, supports education and facilitates better agricultural practices through exhibitions and presentation. Since its beginning in 1932, the Show has committed more than $350 million to the youth of Texas. For more information, visitwww.rodeohouston.com/.
NEWS Rice prof ranks Texas counties as most liberal and most conservative
Published on 29 August 2014
Using data from University of Texas/Texas Tribune polls of registered Texas voters, Rice University political scientist Mark Jones ranked 20 counties in the Lone Star State from most liberal to most conservative. Travis County, home to Austin, is by far the state's most liberal county; Brazoria County is the most ideologically conservative.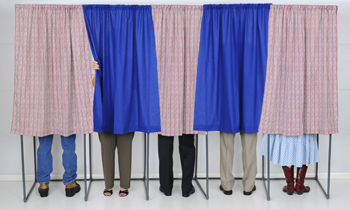 Jones outlined his rankings in a new Baker Institute blog, "The Texas counties: From most liberal to most conservative." He is chair of Rice University's Political Science Department and a fellow at Rice's Baker Institute for Public Policy.

Travis County's status as a clear liberal outlier "should be a source of concern for Gov. Rick Perry and his legal team, since the members of Perry's grand jury and the members of any future trial (petit) jury are drawn from a pool of Travis County residents," Jones said before Perry's indictment by a Travis County grand jury earlier this month. In the blog, Jones noted that "this concern undoubtedly remains, with a very real potential prospect of Perry's fate being once again placed in the hands of Travis County residents -- this time, members of a trial jury."
While among these 20 counties there does not exist a true conservative analog to liberal Travis County, Brazoria County comes closest, Jones said. He found the Houston metropolitan region contains three of the four most conservative large counties in the state: Galveston County, Montgomery County and Brazoria County.
Jones is a leading expert on Texas politics and has been quoted nationally about the 2014 race for Texas governor and other down-ballot races. He has also authored guest columns on these topics in Texas Monthly and the Texas Tribune.
NEWS Emmett wants to convert Dome into world's largest indoor park
Published on 26 August 2014
Harris County Judge Ed Emmett announced a proposal this afternoon to convert the Harris County Domed Stadium - known worldwide as The Astrodome - into the world's largest indoor park and recreation center. Emmett unveiled his proposal from the floor of the Dome, which he described as the realization of Judge Roy Hofheinz's "vision of the future."

"I believe it is time to put forth a new vision for the future of the Dome," Emmett said. "With that in mind, I am suggesting we explore the concept of creating an indoor park and recreation area inside the Dome for the people of Harris County. The world's largest indoor park."

Emmett has been exploring the indoor park concept with local officials, stakeholders and interested parties for the past couple months, seeking input and suggestions and refining the idea. While details of the concept are still being refined, Emmett suggested leaving it open to the public, except when in use by tenants like the Houston Livestock Show and Rodeo, Offshore Technology Conference or others. He also recommended including a large, open green space that would be perfect for festivals and other community gatherings. Emmett also proposed having a pavilion for music and other events and sporting facilities from archery ranges to hiking and biking trails.

"Rather than try to convert the Dome into something it was never intended to be, I think it is time to look back to the original vision of Judge Hofheinz," Emmett said. "That vision was to provide a place for traditional outdoor activities in a climate-controlled space. A space like none other in the world."