NEWS Rice prof ranks Texas counties as most liberal and most conservative
Published on 29 August 2014
Using data from University of Texas/Texas Tribune polls of registered Texas voters, Rice University political scientist Mark Jones ranked 20 counties in the Lone Star State from most liberal to most conservative. Travis County, home to Austin, is by far the state's most liberal county; Brazoria County is the most ideologically conservative.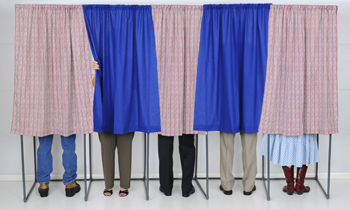 Jones outlined his rankings in a new Baker Institute blog, "The Texas counties: From most liberal to most conservative." He is chair of Rice University's Political Science Department and a fellow at Rice's Baker Institute for Public Policy.

Travis County's status as a clear liberal outlier "should be a source of concern for Gov. Rick Perry and his legal team, since the members of Perry's grand jury and the members of any future trial (petit) jury are drawn from a pool of Travis County residents," Jones said before Perry's indictment by a Travis County grand jury earlier this month. In the blog, Jones noted that "this concern undoubtedly remains, with a very real potential prospect of Perry's fate being once again placed in the hands of Travis County residents -- this time, members of a trial jury."
While among these 20 counties there does not exist a true conservative analog to liberal Travis County, Brazoria County comes closest, Jones said. He found the Houston metropolitan region contains three of the four most conservative large counties in the state: Galveston County, Montgomery County and Brazoria County.
Jones is a leading expert on Texas politics and has been quoted nationally about the 2014 race for Texas governor and other down-ballot races. He has also authored guest columns on these topics in Texas Monthly and the Texas Tribune.
NEWS Emmett wants to convert Dome into world's largest indoor park
Published on 26 August 2014
Harris County Judge Ed Emmett announced a proposal this afternoon to convert the Harris County Domed Stadium - known worldwide as The Astrodome - into the world's largest indoor park and recreation center. Emmett unveiled his proposal from the floor of the Dome, which he described as the realization of Judge Roy Hofheinz's "vision of the future."

"I believe it is time to put forth a new vision for the future of the Dome," Emmett said. "With that in mind, I am suggesting we explore the concept of creating an indoor park and recreation area inside the Dome for the people of Harris County. The world's largest indoor park."

Emmett has been exploring the indoor park concept with local officials, stakeholders and interested parties for the past couple months, seeking input and suggestions and refining the idea. While details of the concept are still being refined, Emmett suggested leaving it open to the public, except when in use by tenants like the Houston Livestock Show and Rodeo, Offshore Technology Conference or others. He also recommended including a large, open green space that would be perfect for festivals and other community gatherings. Emmett also proposed having a pavilion for music and other events and sporting facilities from archery ranges to hiking and biking trails.

"Rather than try to convert the Dome into something it was never intended to be, I think it is time to look back to the original vision of Judge Hofheinz," Emmett said. "That vision was to provide a place for traditional outdoor activities in a climate-controlled space. A space like none other in the world."
NEWS Houston expands smoking ban to include parks and libraries
Published on 24 July 2014
The City of Houston Parks and Recreation Department (HPARD) and Houston Public Library (HPL) have announced plans to ban smoking and tobacco products at all of their properties. The new policy is an expansion of Ordinance #2006-1054 Sec. 21-243, which was passed on Oct 18, 2006, and will apply to both interior and exterior spaces. The move mirrors action taken years ago for properties managed by the Houston Department of Health and Human Services.
"This decision is based on a desire to protect the health of our residents," said Mayor Annise Parker. "Millions of Houstonians, many of them children, utilize our City parks and libraries. They deserve to be able to play and learn without being exposed to harmful secondhand smoke. Likewise, City employees at these facilities also deserve healthy work environments."
Existing City law bans smoking within 25 feet of a public facility, places of employment, bars and restaurants and at outdoor sports arenas and stadiums. The ordinance grants owners, operators and managers the authority to extend the existing regulations to any area of their properties.
More than 900 municipal parks system are currently smoke-free. However, HPL is believed to be among the first large library systems in the country to implement this type of policy.
"The Houston Public Library serves more than four million people each year, with approximately 40 percent of our daily programs targeted to children or families with children," said HPL Director Dr. Rhea Brown Lawson. "We want the residents of our city to think of each library location as a safe, healthy, family-friendly and welcoming environment. These no smoking zones will help us meet this goal."
"The smoking ban will improve the beauty of our outdoor space, as well as reduce environmental pollution and litter in our Parks," said Joe Turner, Director of the City's Houston Parks and Recreation Department. "A smoke free park system will assist the department in keeping our recreation areas and natural spaces clean, healthy, and safe for all to enjoy."
The new policy will take effect at HPL's downtown properties starting today. All other libraries and parks facilities will become smoke and tobacco product-free the day after Labor Day. There will be signage posted at each property notifying users of the ban. Enforcement will be administered by staff and, if needed, Houston police. The goal is to obtain compliance through education and warnings. Customers who refuse to comply will be asked to leave and, ultimately, may face the possibility of a municipal citation with a fine not to exceed $2,000.
EVENT 'Soto: The Houston Penetrable' opening at MFAH
Visitors to the Museum of Fine Arts, Houston, this spring and summer will become part of a great marvel of contemporary art: one of Venezuelan artist Jesús Rafael Soto's signature Penetrables. Soto: The Houston Penetrable will be on view from May 8 to September 1.
Mercantil Commercebank sponsors the debut presentation of the Houston Penetrable, a sea of 24,000 hand-painted PVC strands suspended from the ceiling of Cullinan Hall. The artwork is equal parts geometric abstraction, architecture, sculpture, environment and playscape, and it is completed only by the viewer's participation.

This indoor piece was designed by Soto on commission from the Museum in 2004 and is the largest and most ambitious work that the artist ever created. Accompanying the exhibition are eight exemplary pieces from the various phases and series of Soto's career.

Museum hours are 10 a.m. to 5 p.m. on Tuesdays and Wednesdays; 10 a.m. to 9 p.m. on Thursdays; 10 a.m. to 7 p.m. on Fridays and Saturday, and 12:15 to 7 p.m. on Sundays. The museum will be open 10 a.m. to 5 p.m. on Memorial Day and Labor Day and from 10 a.m. to 7 p.m. on Independence Day.