NEWS Entrepreneurship Program at Rice University ranks high
Published on 16 September 2014
Rice University's Jones Graduate School of Business has the No. 4 graduate entrepreneurship program in the U.S. for the third consecutive year, according to rankings announced this week by the Princeton Review and Entrepreneur magazine. This marks the sixth year in a row the Jones School has been ranked as a top 10 program in graduate entrepreneurship.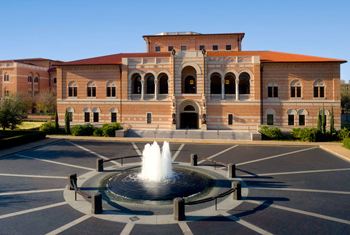 "Our students have unique opportunities to develop valuable entrepreneurial knowledge and skills alongside researchers, scientists and entrepreneurs," said Bill Glick, dean and the H. Joe Nelson III Professor of Management. "The Princeton Review's acknowledgment recognizes our significant and growing commitment over many years to providing students the right environment in which to learn and practice entrepreneurship."
The 2014 ranking was based on a review of more than 2,000 U.S. undergraduate and graduate programs. The survey results will be published in the October issue of Entrepreneur magazine.
The Jones School's entrepreneurship program was founded by nationally recognized faculty led by Al Napier and Edward Williams. This year, Yael Hochberg, the Ralph S. O'Connor Associate Professor in Entrepreneurship, was recruited from Northwestern and MIT to further enhance the Jones School's entrepreneurial initiatives, and is a recognized thought leader in venture capital, accelerators and funding for entrepreneurial enterprises. The school offers more than 25 courses taught by professors with significant entrepreneurial experience.
The Rice Alliance for Technology and Entrepreneurship provides students with unparalleled co-curricular opportunities to enhance their classroom education and apply it to real startups while they are still in school.
"Through programs such as the OwlSpark Student Accelerator, Rice Business Plan Competition, Ignite Silicon Valley Trek and flagship venture capital forums, students can identify promising new technologies, receive mentoring, meet early stage investors and be well on their way to launching successful technology startups before they graduate," said Brad Burke, managing director of the Rice Alliance.
Earlier this summer, the Rice Alliance was recognized for the second year in a row as the No. 1 university business incubator in the world by UBI Index, a research group based in Sweden. This is an acknowledgment that more than 1,500 early stage companies have benefited by participating in the 160-plus programs the Rice Alliance hosted and have raised in excess of $2.8 billion.
The Jones Graduate School Entrepreneurs Organization and Rice Education Entrepreneurship Program are two additional examples of the full complement of innovative programs and opportunities graduate students have to translate ideas into action.
The Princeton Review survey evaluated schools in the areas of entrepreneurship, business fundamentals taught in the classroom, departments staffed with successful entrepreneurs, excellence in mentorship, provision of experiential or entrepreneurial opportunities outside of the classroom, as well as nontraditional features that distinguish the programs.
To view the complete rankings, visit http://www.princetonreview.com/schoollist.aspx?id=766.
NEWS Houston Public Library schedules variety of events for Hispanic Heritage Month
Published on 15 September 2014
The Houston Public Library invites the community to its Third Annual Houston LibroFEST on Saturday, Sept. 27 at two library locations.

LibroFEST will celebrate Hispanic Heritage Month by bringing Latino literature and culture to the Bayou City with cultural activities and presentations by authors and musicians.

Featured authors include Richard Blanco, the fifth inaugural poet of the United States, and Rolando Hinojosa, recipient of the National Book Critics Circle's Ivan Sandrof Lifetime Achievement Award.

Hispanic Heritage Month celebrations continue through October with lectures and exhibits. All events are free and open to the public.

For more details visit www.houstonlibrary.org or call 832-393-1313.
EVENT Women Who Empower Luncheon slated for Sept. 25
Published on 10 September 2014
Continuing the celebration of its 10th anniversary, the Houston West Chamber of Commerce Women Driving Business Committee will feature Janine K. Iannarelli, founder and president of Par Avion Ltd., at its Women Who Empower Luncheon on September 25. Par Avion, an aircraft marketing firm that specializes in the exclusive representation and acquisition of business aircraft.
Additionally, two special guests will be attending the luncheon – Mary Sue Koontz Nelson, author of the cookbook, Stolen Recipes, and Dian Stai, who was named one of the Leading Women Entrepreneurs of the World in 1997. The businesswoman and philanthropist continues to support many organizations, including the Houston Grand Opera and the Texas Historical Foundation. Stai co-founded Owen Healthcare, Inc, with her late husband in 1969.
And, for the first time ever, the WDB Committee will allow a mysterious gentleman into the midst of almost 200 professional women. Affectionately known as the "Most Interesting Man in the Room," this distinguished Houstonian has allowed the chamber to reveal a few clues about his identity: he's an entrepreneur, philanthropist and not involved in the energy industry. For 20 years he has used his expertise to help children in need, in both the United States and Mexico.
The "Interesting Man" credits much of his success to the support of women throughout his career, making him an ideal guest at this traditionally female-only event. Not only does he have a staff led by women, but his close attention to detail, along with skill in blending art with science have made him a sought-after expert in his field. And when "The Most Interesting Man in the Room" is off the clock, he enjoys playing golf, flying his private jet and spending time on the water, where "sharks hold a week in his honor."
Luncheon attendees will have a chance to take home luxurious gift baskets, ranging in value from $500 to $5,000.
For more information on this event and the Houston West Chamber of Commerce, please call 713-785-4922 or visit www.hwcoc.org.
NEWS HDHHS to receive $1.8 million to help uninsured area residents
Published on 10 September 2014
The Houston Department of Health and Human Services will receive $1.8 million to help uninsured area residents sign up for health care coverage through the Affordable Care Act.
HDHHS plans to use the federal grant funds to organize about 500 outreach events, produce and distribute promotional materials, set up a call center and visit community sites such as grocery stores, day care centers, businesses and places of worship in neighborhoods with high rates of uninsured people.
It will also hire about a dozen workers to augment the number of employees trained to help people enroll in health care coverage and use its 11 multi-service centers, four health centers, and 14 Women, Infant and Children (WIC) sites as convenient education and enrollment centers.
Open enrollment for the 2015 plan year begins November 15.
An estimated 1.1 million residents in Houston and Harris County lack health care coverage, representing 19 percent of the uninsured in Texas. Houston's poverty rate is also high, at 23 percent, compared to 15 percent nationwide. Fifty-three percent of Hispanics in Harris County have no health insurance coverage.
HDHHS will serve again as the lead agency for the Gulf Coast Health Insurance Marketplace Collaborative, a consortium of local organizations it brought together in 2013 to coordinate and facilitate enrollment efforts during the first ACA sign up period.
The collaborative's strategies helped Houston reach 197,650 enrollments by April 15, surpassing the initial Centers for Medicare and Medicaid Services target of 138,000. The agencies, as part of the collaborative, also reached out to more than 500,000 people and visited one-on-one with more than 150,000 residents.
Other collaborative agencies are the Association for Advancement of Mexican Americans, Change Happens, Gateway to Care, Enroll America, Harris County Healthcare Alliance, Harris Health System, Houston Area Urban League, Memorial Hermann Health System, One Voice, SRA International, Texas Organizing Project, Texans Together and Vecino Health Centers.
Last year, HDHHS received a $1.1 million grant from the U.S. Department of Health and Human Services for the enrollment campaign.